Meet the Team at Tamar Chiropractic
Get to Know Us

Dr Rick Montgomery, Chiropractor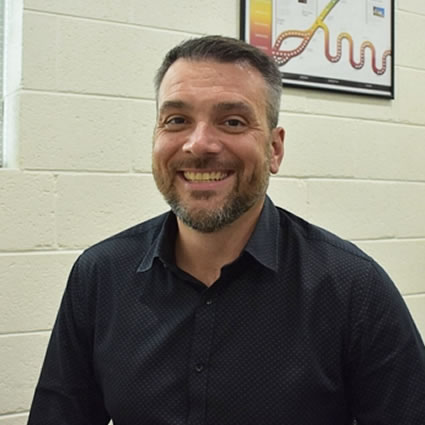 Dr Rick Montgomery pursued undergraduate studies in Pre-Medicine, Nursing and Pre-Chiropractic at Murray State University. He graduated from Palmer College of Chiropractic in Davenport, Iowa, USA. Upon graduation, Rick moved to Evansville, Indiana and opened Montgomery Chiropractic Wellness Center, where he worked for eight years.
He has been on a mission to spread the message of healing naturally through chiropractic. He has appeared on local television, been a columnist for local publications, was interviewed for a book on business success, and hosted the weekly radio program "Adjust Your Thinking". In addition, he speaks to groups, businesses, and churches around the area on health and wellness.
Rick and his wife Hannah visited Tasmania 12 years ago and fell in love with the natural beauty of our island state.

Dr Amos Fong, Chiropractor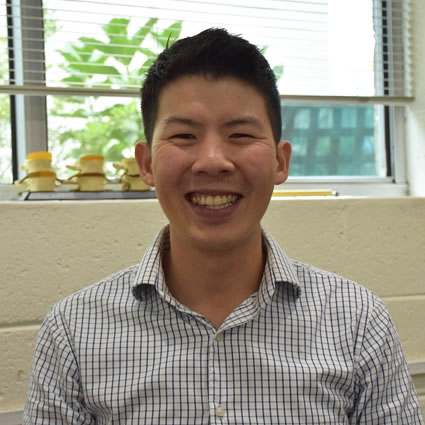 Dr Amos has been practicing as a chiropractor in Sydney where he graduated from Macquarie University with a Masters of Chiropractic. Amos grew up in Singapore and served the national service before moving to Sydney for his chiropractic education.
Amos has also completed further studies into Sports Chiropractic and is now an Internationally Certified Chiropractic Sports Practitioner (ICCSP) done through The International Federation of Sports Chiropractic (FICS). He has a big love for soccer but thoroughly enjoys playing or watching any form of sports altogether!
He is a strong advocate for a work-life balance. He loves the outdoors, bushwalking, hiking, camping and moving to Tasmania with his wife means that there is a whole new world for him to explore.

Dr Venice Pang, Chiropractor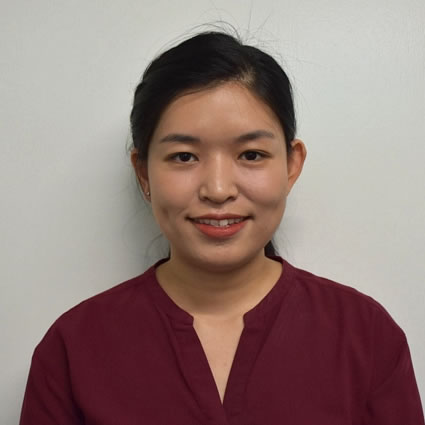 Dr Venice completed her Bachelor's and Master of Chiropractic Science Degree at Macquarie University, Sydney in 2018. Whilst at University she was elected as the secretary of the World Congress of Chiropractic Students, Macquarie chapter. Venice has a very keen interest in neuromusculoskeletal health and gets excitement from improving patients' quality of life, enabling them to continue with daily routines and hobbies. She constantly keeps herself updated with seminars and the most recent publications to provide patients with the best treatment options.
Her special interest in holistic health care was galvanised by a chiropractic education brochure she was given during an education fair in high school. Venice is not only a manual adjuster, she also provides gentle techniques (activators and pelvic block) and dry needling treatment.
Venice is originally from Malaysia and has another specialty in infusing multiple languages into polyphonic symphonies within a sentence. Her verve to challenge herself made her move to Australia alone to pursue her ambition to become a chiropractor. Being born in a small town, Venice really enjoys the lifestyle and culture Launceston has to offer. She celebrates the benefits of exercise to general wellbeing. Together with her love of gym classes, Venice also has a passion for bushwalking and loves exploring the beauty of Launceston.

Dr Jia Lum, Chiropractor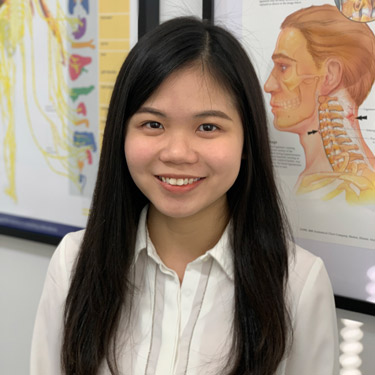 Dr Jia graduated with Distinction from RMIT University with a double Bachelor's Degree in Health Science and Applied Science (Chiropractic). She has shown dedication in utilising the Gonstead System of Chiropractic since the first year of university and has actively attended seminars to constantly build on her knowledge and education. She is also a member of the Australian Gonstead Chiropractic Society and the Australian Chiropractors Association (ACA).
She is thrilled to be part of the team and felt that it is an absolute privilege to be able to take care of patient's health and assist them to achieve a better quality of life through chiropractic treatment. She is passionate in a wide range of neuromusculoskeletal health conditions particularly women's health, paediatrics, and vitalistic care. Dr Jia is excited to see how the chiropractic treatment she provides can support the human body to express its inner intelligence to its fullest.
Being Malaysian makes her multilingual (English, Chinese, Malay). She enjoys traveling, meeting new individuals and experiencing people's life through their stories and looking forward to exploring this beautiful island.
Dr Jia will be working at our Devonport practice on Mondays, Wednesdays and Fridays and is now accepting new patients.

Dr Ian Northeast, Chiropractor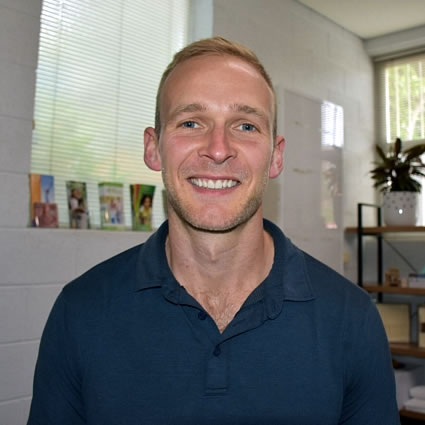 Dr Ian Northeast graduated from RMIT University in 2011 with a Bachelor of Health Science/Master of Clinical Chiropractic.
Ian grew up in northern Tasmania spending his time loving soccer, athletics and horse sports. A gap year, or two, riding dressage horses then working in construction, Ian developed a fascination with form and function. The relationship between how a human is put together (their form) and how they move (their function) and how this compares to the form and function of a sport horse.
Chiropractor by trade, girl dad at home with number two on the way and horse person in between.
If moving better, feeling better and creating health and function that allows you to perform over a lifetime, let alone get you out of your short-term issue is your goal, Dr Ian might be the chiropractor for you.

Dr Chan Park, Chiropractor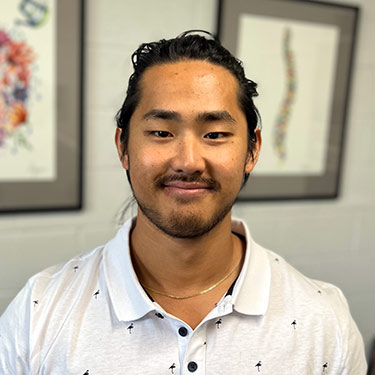 Dr Chan Park has recently completed his Double Bachelor of Health Science and Applied Science Chiropractic. He is returning to his home in Northern Tasmania to be closer to his family and Chan hopes to serve the community he grew up with.
Additionally, Dr Chan completed a Cert IV in Allied Health Assistance. This gave him greater insight into the needs of senior citizens and helped better understand the aged care community.
Dr Chan believes in a holistic approach for pain management/injury as well as general patient centred care. He also has a keen interest in exercise and rehabilitation with the purpose of keeping patients in at their optimum health.
When he isn't at the clinic looking after patients, he is in the gym or exploring the beauty of Tasmania and its wilderness. Dr Chan is excited and ready to be part of the fantastic team at Tamar chiropractic and will be
working at the Kings Meadows and Launceston Clinic, he is available to meet all new and returning patients.
Amanda Irving, Remedial Massage Therapist
Amanda was educated in Launceston and Melbourne and currently lives with her husband and three children in Launceston. She has an interest in self-massage techniques and is an instructor for the Massage in Schools Program. In March 2011 she participated in a massage workshop for arthritis sufferers, in particular those about to undergo, or recover from, a knee reconstruction.
When not at work, Amanda likes to cycle with her family and browse the real estate guide.

Fred Wesley, Remedial Massage Therapist
Laurence (Fred) Wesley has been working at the Tamar Chiropractic clinic since 2009. Fred holds a Diploma in Remedial Massage and is a Member of the Australian Association of Massage Therapists, and an Associate Member of the Massage Therapist Society of Australia. He also holds an Advanced Certificate of Integrated Cupping Therapy in Traditional and Modern Cupping. Fred continues to update his qualifications and offers the very best care to his clients.
Fred is married with two adult children and enjoys family camping holidays and photography.


Merv Davis, Remedial Massage Therapist
Merv has a diploma of Remedial Massage from the Australian College of Massage, graduating in June 2013. He is enjoying helping people get relief from pain and discomfort. Originally from Kangaroo Island, South Australia, he has been involved in a number of different occupations, including mission work in France and Chad, Africa, and more recently working with the Launceston City Mission.
Merv and his wife Mia (who is an RN and originally from Sweden), have a passion to see people well through good nutrition. Merv and Mia have three adult children and they very much enjoy living in Launceston.

Dane Tiffin, Remedial Massage Therapist
Dane started his journey with a passion of wanting to help others and found that massage was a great fit. After graduating his Cert IV in Remedial Massage in 2016, Dane decided to take it a step further and studied through Evolve College (formally known as The Australian College of Massage) for his Diploma in which he graduated in late 2018.
Dane has a strong passion for health and wellbeing and is committed to continually educating himself for the benefit of his clients.
Outside of massage, Dane spends a lot of his time building his body in the gym through weight training and healthy nutrition, and competes in Natural Bodybuilding shows in which he has had some great success.
Daniela Martins De Souza, Naturopath
Daniela holds an advanced diploma in Naturopathy, an advanced diploma in Remedial Massage and has completed post-graduate training in environmental health and learned new strategies to manage the immune system, digestive, neurological and hormonal dysfunctions.
Daniela is passionate about real food, helping people live in healthier homes and empowering people to be proactive and stay on top of their health. She has a special interest in helping families and children to find harmony and live more balanced lives. She gains constant inspiration from seeing clients make conscious changes to their physical health to find that it also benefits their emotional, mental and spiritual wellbeing. She loves working with other health professionals and community groups providing a more holistic approach to health.
Her passion for natural health started from a very young age watching her grandparents using herbs and real food as medicine.
In her spare time, Daniela enjoys walking in nature, spending time by the sea, preparing delicious and nutritious meals and sharing enriching and joyful experiences with family and friends.
Elizabeth (Lizzy) Rowlings, Registered Midwife/Nurse/Childbirth Educator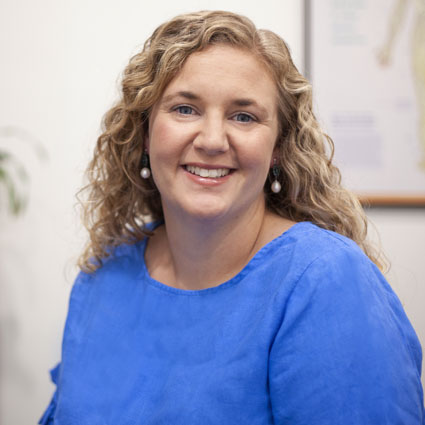 Since she was a young girl, Lizzy always wanted to be a nurse. The first step in achieving that goal was earning a Bachelor of Nursing from the University of Tasmania in 2004. With a steadfast passion for caring for people, nursing gave Lizzy a wealth of experience in many areas.
Lizzy then decided to branch out and study midwifery. She earned a Graduate Diploma of Midwifery from the University of Tasmania in 2009. Lizzy stays abreast of the latest in the field by taking continuing education courses annually.
For over 10 years, Lizzy has enjoyed caring for pregnant women and their babies. For her, one of the most fulfilling aspects of her job is empowering pregnant women and their families. She enjoys equipping them with the information they need to approach labour, birth and parenting without fear, but with knowledge.
When she's not helping mums-to-be, Lizzy loves to sing. She is a classically trained soprano. She also loves to spend time with her two beautiful sons and her husband. Lizzy and her family love camping together in their camper by the beach.
Ready to Book?
Our team looks forward to welcoming you into our care. If you'd like to get started today, please contact us for a visit. We can't wait to meet you soon.
EXPLORE OUR SERVICES »

Tamar Chiropractic Team | (03) 6331 3411