Discover Hope in Health with Our Devonport Chiropractors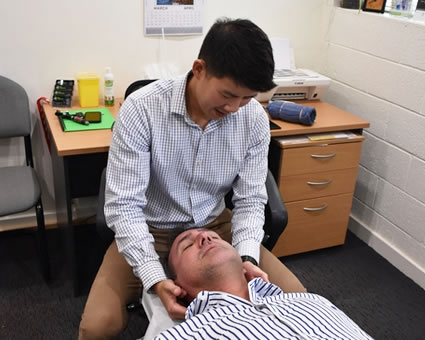 Tamar Chiropractic is Your Trusted Health Partner in Devonport
At Tamar Chiropractic, we are more than just a chiropractic clinic. Since opening our doors in 2019, our dedicated team of three chiropractors, two massage therapists, and one Chinese medicine practitioner have been helping the Devonport community achieve comprehensive health and wellness.
Located in a stunning converted house in this delightful seaside town, our practice offers a tranquil and inviting environment for your healing journey.
MEET THE TEAM

A Wide Range of Services
At Tamar Chiropractic, we believe in offering a holistic approach to health and wellness. That's why our team provides a wide array of services including chiropractic care, massage therapy, integrative health GP services, and Chinese medicine. Whether you're seeking pain relief, relaxation, or a comprehensive health plan, our diverse range of offerings ensures that all your needs are met under one roof.
Trusted and Reliable
Although this location is relatively new, we have quickly established ourselves as a trusted provider of chiropractic and allied health services in Devonport. Our clients trust us with their wellness and maintenance needs, knowing that they are in capable and caring hands.
A Welcoming Environment
From the moment you step into our practice, you will feel a sense of balance and serenity. Our beautifully designed space, housed in a converted house, is both inviting and professional. We have created a tranquil atmosphere where you can relax and focus on your wellness journey. Plus, our practice includes kids toys in the waiting area and a refreshment station, ensuring a comfortable experience for the whole family.
Convenient and Accessible
We understand the importance of convenience and accessibility in your healthcare journey. That's why we offer both on-street and off-street parking, making it easy for you to visit us. Our location is also wheelchair accessible, ensuring that everyone can access our services. Additionally, we sell supplements and pillows at our clinic, so you can continue to support your health even outside of your visits.
Serving the Diverse Needs of Devonport
At Tamar Chiropractic, we are proud to serve a wide range of individuals in the Devonport community. Whether you're a parent, tradesperson, senior citizen, or child, we cater to your unique health needs. Our ideal patient is anyone who values and prioritizes their health and is committed to maintaining it.
Discover More Today
We are thrilled to welcome new patients from Devonport and beyond. In particular, we are dedicated to serving those from rural and agricultural areas.
Take the first step towards comprehensive health and wellness. Contact our team of chiropractors today to schedule your appointment and experience the difference of our integrated, multi-disciplinary practice. We look forward to helping you find hope in health at Tamar Chiropractic.
CONTACT US

Chiropractor Devonport TAS | (03) 6424 4774