Meet Dr Jia Lum, Chiropractor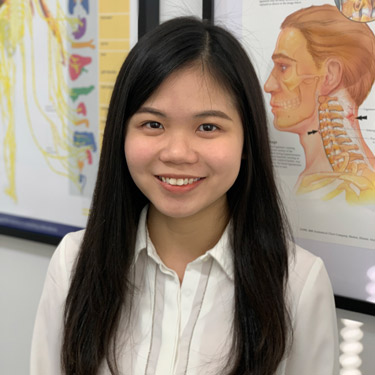 Chipropractic Education
Dr Jia graduated with Distinction from RMIT University with a double Bachelor's Degree in Health Science and Applied Science (Chiropractic). She has shown dedication in utilising the Gonstead System of Chiropractic since the first year of university and has actively attended seminars to constantly build on her knowledge and education. She is also a member of the Australian Gonstead Chiropractic Society and the Australian Chiropractors Association (ACA).
She is thrilled to be part of the team and felt that it is an absolute privilege to be able to take care of patient's health and assist them to achieve a better quality of life through chiropractic treatment. She is passionate in a wide range of neuromusculoskeletal health conditions particularly women's health, paediatrics, and vitalistic care. Dr Jia is excited to see how the chiropractic treatment she provides can support the human body to express its inner intelligence to its fullest.
Being Malaysian makes her multilingual (English, Chinese, Malay). She enjoys traveling, meeting new individuals and experiencing people's life through their stories and looking forward to exploring this beautiful island.
Dr Jia will be working at our
Devonport practice
on Mondays, Wednesdays and Fridays and is now accepting new patients.

Dr Jia Lum | (03) 6331 3411